Pearl Jam - Yellow Ledbetter (Lyrics and Comments)
Unsealed, on a porch a letter sat
Then you said, 'I wanna leave it again'
Once I saw her on a beach of weathered sand
And on the sand I wanna leave it again, yeah
On a weekend, I wanna wish it all away, yeah
And they called and I said that I want what I said
And then I call out again
And the reason, oughta' leave her calm, I know
I said, 'I know what I wear, not a boxer or the bag'
Ah yeah...can you see them?
Out on the porch, yeah, but they don't wave
I see them, round the front way, yeah
And I know and I know I don't want to stay
Make me cry
I see, ooh...I don't know why there's something else
I wanna drum it all away
Oh, I said, I don't, I don't know whether there's a boxer or the bag'
Ah yeah, can you see them?
Out on the porch, yeah, but they don't wave
I see them, round the front way, yeah
And I know, and I know, I don't wanna stay alone
I don't wanna stay
I don't, don't wanna

Click on cover for french translation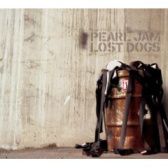 Comments: It's a real challenge to translate a song that doesn't arguably make sense. Doesn't? In some interviews, Eddie Vedder gave hints of an anti-patriotic message lying behind his mumbled lyrics. Keeping this in mind, here is the interpretation I used in order to translate the lyrics in french.

The narrator receives a letter from the army that he leaves under the porch, unsealed,. He just refuses to face the fact that his son/brother/ spouse was killed in action. He can't stay there under the porch, with this letter under his gaze. So he walks away...On a beach, he meets Death or Fate or whatever supernatural entity and tries to plead, to negociate. He tells her that this war is not his, that he is neutral (nor boxer, neither punching bag) so there's no reason he should be bereft of his son/brother/spouse...He just can't accept the truth, wondering why it shouldn't be as before ("I don't why there's something else"). Feeling sad and lonely, he walks back home but can't face people who came to shoulder him, as it would mean he'd accept the reality. So he turns back, he can't stay...

This is a personal interpretation of course. I know the lyrics were writen on the fly by Pearl Jam during a studio session and weren't meant to become a political pamphlet. Anyway, I think it gives some coherence and force to one of the most soul-stirring songs of the past 20 years...